5 Tips for Rainy Wedding Days
I know that every brides worst nightmare is a rainy wedding day. I totally get it! I worried about this to when I was planning my wedding. But I truly believe when you invest in a professional photographer you can still have amazing images no matter what the weather decides to do! We have shot several weddings in the rain and their images were still SO beautiful and in a lot of photos you couldn't even tell it was raining! It is all about choosing the right location and knowing what to look for. So whether you are a photographer or just a bride that is looking for some tips this post is for you! I am going to share with you 5 tips that will help you choose locations that will still give you great photos no matter what the weather does!
*Please keep in mind that in the following photos it was DOWNPOURING. In some of the photos you would have no idea it was raining and in others we embraced it and had some fun! I hope you find these tips helpful! I know when I first started the thought of photographing a wedding in torrential downpours would be extremely intimidating, but now we are prepared, and it doesn't scare me one bit! So I am excited to share some tips I have learned along the way!
Tip #1 – Scout Locations ahead of time & have a plan B!
When looking for a location for photos I am not always looking for a covered area as my first choice, however I always at least have a plan B option that will work with the rain! You should always look at the surrounding area ahead of time during the time of day that you will be shooting portraits. This way you can choose a spot that will work with bright sun if you are shooting midday or end up having rain. Doing this ahead of time takes so much of the stress out of the situation. If you get some unexpected rain and did not do your research ahead of time it can get stressful quick because weddings are fast paced, and you need to be able to think fast and on your feet! Choosing the right location ahead of time will set you up for success!
Tip #2 – Look for neutral backdrops
When I am looking for a location, I am always looking for a neutral backdrop. This will help the photos to be bright even on a dreary day. White or a light stone are some of my favorite options!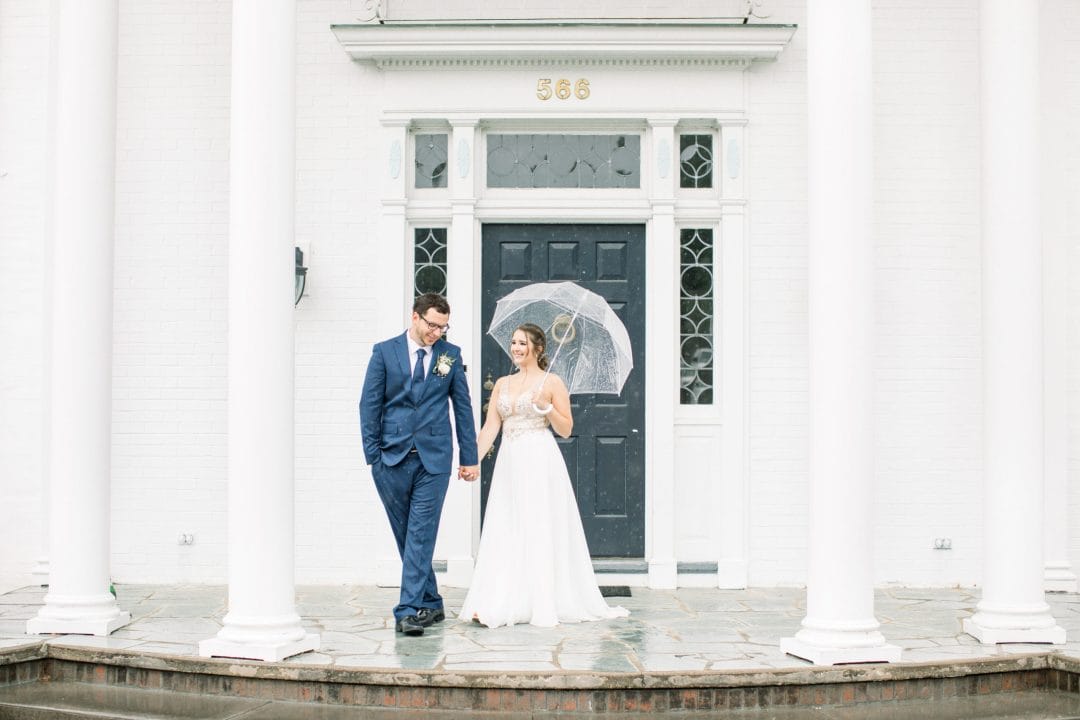 Tip #3 – Consider natural reflectors
Once you have your neutral backdrop consider what is going to be in front of the couple when you position them for photos. Is it a dark green tree or is the ceiling dark brown wood? These are things you want to avoid. The way their skin tones look and the light on their face will reflect off of these elements. If you have a porch you want to look for a white ceiling and a neutral floor in front of them. For example, in these photos we had a white porch with high porch covering so a lot of natural light could come in. There was also a light concrete flooring, so we were not getting any dark shadows on their faces and it reflected a beautiful neutral tone. I personally avoid flash photography when I am shooting outside so I will always be looking for ways to make the photos beautiful with the natural elements. This will also make your editing 10x easier!
Tip #4 – Consider your camera settings
This one is for the photographers! I personally love to shoot portraits with a wide aperture. 1.8 is where I like to be at and it will allow so much light to come in! This is crucial on wedding days where dark clouds and rain is involved because it will still give off a creamy and bright look. Obviously editing helps as well, but doing as much in camera as you can will always benefit you!
Tip #5 – Grab an umbrella & embrace the rain!!
I always love when couples do not let a little rain ruin their day and they just embrace it! Rain is supposed to be good luck after all J So grab an umbrella and have a little fun in the rain, the pictures will be well worth it, and it will be fun to look back on! We always have a clear umbrella with us and it photographs beautifully! Click HERE for this umbrella.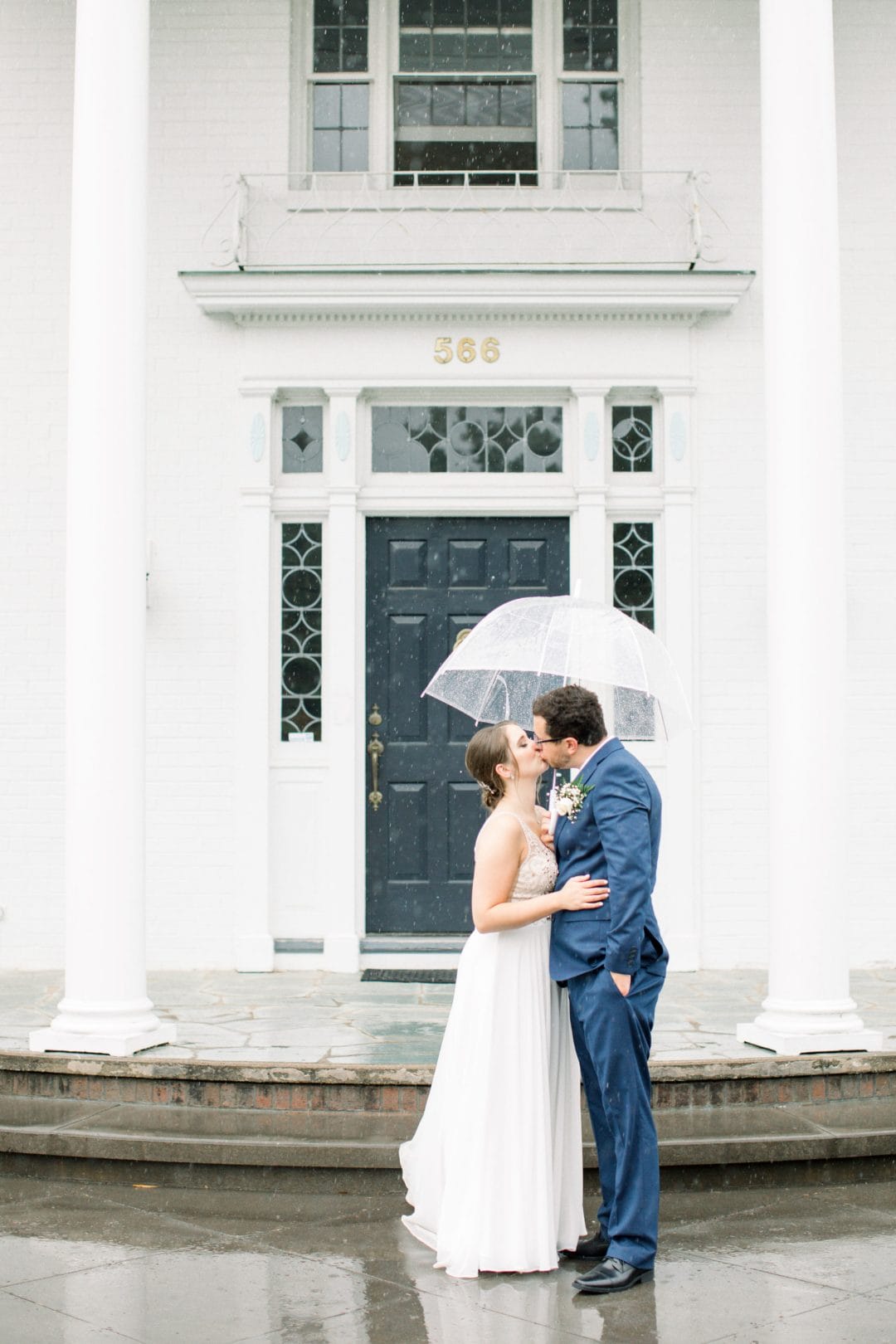 I hope you found these rainy wedding day tips helpful! A big shout out to Andrea & Brian who trusted us and embraced the rain in all these photos!
Wedding photographer serving New England. Timeless photography for the classic romantic.