It is no secret that I am a big fan of first looks! But I will preface this by saying I did not have a first look on my wedding day. That is the ONE thing I wished I had done differently. Why did I choose not to do a first look? Honestly because it was unfamiliar to me…When I got married this was not a big trend yet, and I did not fully understand why it would have been beneficial. It just seemed like ruining a tradition at the time.
This is why I ALWAYS educate my couples and believe it is SO important to let them in on the benefits. With that said I still do not believe a first look is for everyone. Every wedding is unique and I in no way would ever pressure any of my couples into a first look. I simply want to educate! Andrew and I had a lot of guests that were from out of town that we did not often see. Our time to visit with them would be cock tail hour and/or during the reception going table to table. At the time of our wedding I was not really a wedding photographer I just loved photos and would do families/seniors. I knew photos were important to me and when it was time for cocktail hour since we did not have a first look we needed to do our portraits, bridal party, and family photos in that hour. Things fell behind and we did not get to our portraits by the time the venue told us we needed to line up for the reception. So we had to leave during the reception to do our portraits. Which meant we did not get to visit with guests during cocktail hour or go visit them table to table. This was my biggest regret. Because at the end of the day it is about celebrating with the people that mean the most to you. Because of the layout that our day had I wish we would have done our portraits and bridal party before the ceremony. I would have been able to spend that time with Andrew and soak in the moment of his reaction with just him. And we would have had an hour+ more time with our family/friends.
Don't get me wrong our wedding day was BEAUTIFUL and seeing his face when I walked down the aisle is something I will never forget. Our day was in no way ruined by opting out of a first look. But if I would have known all I know now I would have made a different choice.
I asked a few of our sweet couples if they would not mind leaving a review about their first look to help other couples as they are making this decision. I hope you find this helpful!
COLLEEN & JONATHAN

There is both a practicality and a special, beautiful feeling that comes with a first look. Originally, Jonathan and I were not going to have a first look. We wanted the moment we saw one another to be the moment I walked down the aisle. However, Jonathan, being a humble man as he is, was feeling a bit nervous about being in the center of attention on the wedding day. There's a lot of hype built up around what the groom's reaction will be to his bride walking down the aisle. The first look gave us the opportunity to see and focus on only one another before that moment of walking down the aisle. More than that, it allowed our nerves to calm and for us to connect with one another in a moment that felt like taking a full, deep breath. It was a sweet time for just he and I to be together on a day where we didn't get any other time alone because we were surrounded by our friends and family. Additionally, as our wedding was an evening wedding in the winter, the first look allowed for Krista to capture our portraits at the most dreamy time of day- with the natural winter light pouring into the shots. The first look felt sacred and beautiful and I was filled with sweet anticipation to see my soon to be husband not only during that moment, but also as I waited to walk down the aisle with my dad. I didn't think anything was spoiled during those ceremony moments. The first look photos are some of my very favorite from the day and we're so grateful for those sweet captured moments that we will always remember. – Colleen & Jonathan
KALEIGH & DAN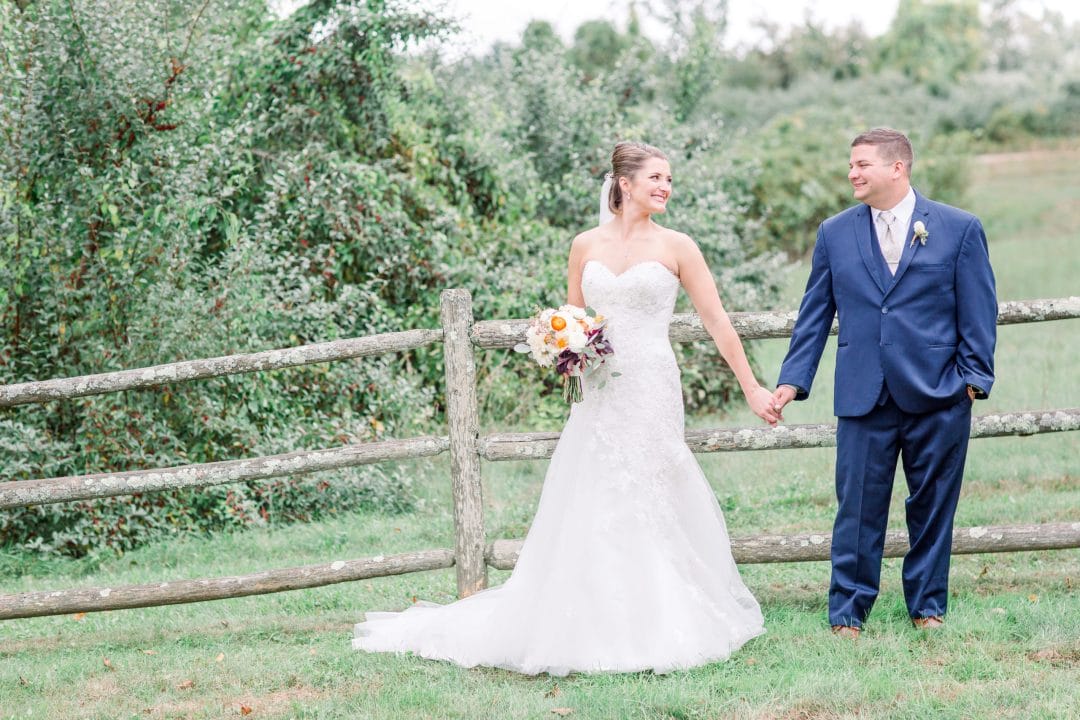 "At first, I wouldn't even contemplate the idea of a first look. I had it totally planned out in my head and planned on being the traditional bride where I wouldn't have him see me until I walked down the aisle. But then, I had asked Dan if he had cared or had a preference…and as I had figured, he'd told me to plan the day how I had wanted and envisioned, and how'd I'd be most comfortable. After much contemplating, I decided to do a first look, as Krista had initially suggested and am so glad I changed my mind. Dan's comment about 'whatever you're most comfortable with,' stuck with me. I felt that with a first look some of my emotional anxiety would be taken away, and more importantly, we would both be able to enjoy and share in a moment together, just the two of us, before the rest of the crazy, yet wonderful, day would continue. And while it wasn't just the two of us (we had our lovely photographer in the near distance), we were able to share in an intimate moment…we both shared our nerves and excitement. Most of my initial anxiety was taken away as soon as I saw Dan turn around to see me for the first time. I loved it and I will never forget it. We did our first look in a field, and once it was over, we left hand in hand, as if we were not only ready to conquer the rest of the day, but the start of our journey together. I loved it and I will never forget it." – Kaleigh & Dan
LIZ & DALLAS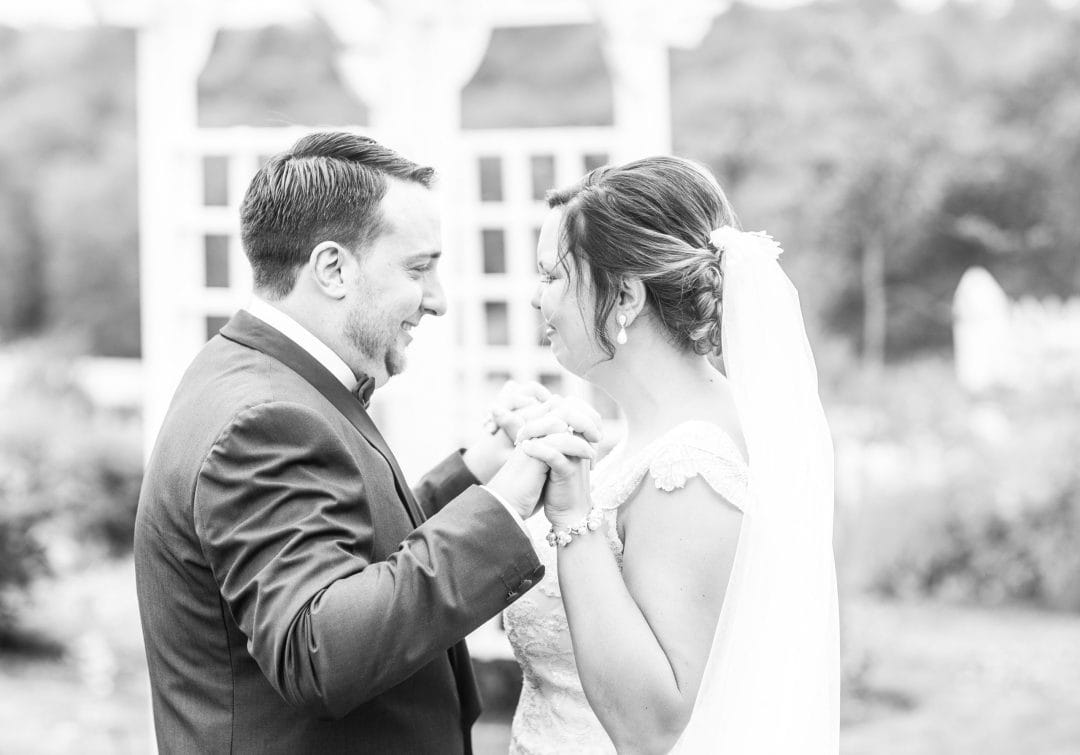 "Dallas and I are so glad that we went with a first look on our wedding day.  By doing a first look, we were able to create a memory as a couple that only we could experience and share together.  The amount of emotion and intimacy at our first look was everything I could have wanted and more. We were really able to share our emotions and take our time to take in the day with each other before our big ceremony. When we reminisce on our day, one of the things we both says is that our first look made our day so much better.  Because we did a first look, we were also able to spend more time with our family and friends during our cocktail hour, take photos that we probably wouldn't have been able to do if we didn't do the first look, and not feel rushed.  We were really able to enjoy every moment and make memories that we will never forget for years and years to come.  We HIGHLY recommend doing a first look.  We, for sure, do not regret it!" – Liz & Dallas
KANITA & JOHN
"We were both completely nontraditional and don't believe in all the wedding superstitions, so doing the 'first look' was an exciting thought. We were married a few years back in a court room, no vows, no wedding, no rings, just a signed piece of paper. With us both being in the military we weren't afforded the time to have a real wedding, so getting to actually celebrate our marriage the right way was something we both waited so long for! Knowing that we'd get a moment alone together would ease the anxiety of the ceremony. I remember all the feelings I had when I walked up to him with his back facing me. I was nervous and so excited at the same time. I was so busy with my bridal party the entire morning getting dolled up, so I hadn't had a chance to even text him. The day was flying by and I couldn't believe it was almost time. I'll never forget that huge smile on his face when he turned around and saw me. It was almost like I was seeing him the first time after an overseas tour! It's truly something that you will never forget. Small moments like the 'first look' were an amazing addition to our wedding. We are so happy that our smiles were captured by you! Thank you so much for the memories." – Kanita & John
JEN & KYLE
"Everyone warned us how fast our wedding day would go by. We wanted to make sure we got to enjoy every moment of the dream wedding we had planned. Kyle and I are so happy with our decision to do a first look and have never regretted it. We had heard from friends that traditionally wedding pictures are taken while your guests are enjoying cocktail hour and then you spend the rest of your reception going table to table to greet and thank your guests. Anyone who knows me knows I can dance all night; there was no way I was going to spend the biggest and most important party of my life anywhere but on the dance floor! The first look allowed us to get the pictures (while very important!) out of the way so that we could fully immerse ourselves in our reception. Beyond that, having a first look allowed Krista and Andrew to get some of our favorite shots from our wedding. They capture that intimate moment you see each other for the first time on your wedding day. A first look is for just the two of you, where you get to admire each other, talk to each other, and revel in the excitement that is about to unfold together. After our first look and private photos together, we met up with our bridal party to get our group photos done, and then were all able to ride to the church together. Everything just went so smoothly; Krista and Andrew have got the schedule down to a science! When we arrived at our reception, we took just a few minutes to grab some family photos and made it downstairs in time for cocktail hour, where we got all of our mingling and greetings done. By the time we got into the reception, all we had to worry about was eating, drinking, and dancing. Everything was so perfect and if I had to do it all over, I wouldn't, because everything went even better than I could have imagined. Not only did having a first look allow us to enjoy every minute of our reception, but it extended our wedding day by about 2 hours which meant spending more time together. We are so grateful that Krista and Andrew were knowledgeable and supportive of a first look. It really made our day extra special."        – Jen & Kyle
MOLLY & DREW
"As a bride, I always envisioned turning the corner to walk the aisle on my wedding day and watching my groom cry with happiness!! When people starting doing first looks, I couldn't understand why they would give up that moment! When it came time to plan our wedding, the only reason I agreed was so that I could get photos out of the way and attend my own cocktail hour! On our wedding day, I was excited all day but also pretty nervous. As soon as we did our first look, all my nerves went away and I was just so excited we were together. Being able to see Drew in a private setting before the ceremony was an experience I'll never forget.  We got so much more time together on our special day and it took so much pressure off of us. It is totally worth it and I really can't recommend doing a first look enough!" – Molly & Drew