Jillian Howell Events was inspired by old time romance, vintage details, and coastal elements to curate a seaside destination weekend, this collaboration took place overlooking the Atlantic Ocean at the luxurious Beauport Hotel in Gloucester Massachusetts.
Krista Jean Photography skillfully captured the personalized touches and design that were taken to create an unforgettable Wedding Weekend experience. From refreshing welcome cocktails, hand crafted welcome gifts for each guest, to lush floral embellishments at every turn, each space and weekend event was thoughtfully created to complement the coastal location.
Wanting to create a one-of-a-kind, timeless design, memorable details were incorporated including vintage rentals, a fashion forward vintage bridal gown, floral arrangements and an intimate day after beachfront brunch for the newlyweds – including a sunrise portrait session utilizing the Beauport's breathtaking beachfront and rooftop pool. This collaboration was all about showcasing how to make the most out of your destination wedding weekend as a couple & providing a memorable experience that will keep your guests talking about every detail for years to come.
Traveling out of town for a destination wedding isn't always smooth. Along with the packing checklist and multi outfit planning can come all sorts of travel anxiety. That's why welcoming guests upon arrival with a cocktail & beautifully packaged welcome gifts immediately set the tone for a weekend full of elegance, fun and romance. Lavender & Pine Gifting curated these whitewashed seagrass baskets with an entire weekend's worth of events in mind. Adorned with a simple white bow and fresh blooms, the material of the basket itself served as a nautical nod to the lovely Beauport Hotel and their stunning oceanfront views.
When guests arrive at their rooms with a gift in hand, they remove the basket lid to reveal a sweet welcome message from the couple laid on top of a beautiful blue and white Turkish woven beach towel they can use to lay on the beach, bring to the rooftop hot tub or use for a late-night swim at the pool. Each handpicked product was carefully curated for this wedding to not only complement each other but to pair perfectly with this wedding's laid back, luxurious vibe while tickling all of the senses during their stay!
Rebekah Nicole Ink created a custom invitation suite and brunch menu. Inspired by the soft waves, coarse sand and light salty air of the coast, a feeling of tranquility and peace is experienced. At the same time, there is an element of awe and excitement when taking in the beauty and vastness of the ocean and nature. The invitation suite is inspired by all these feelings, while also capturing the timelessness of the coast's beauty with vintage and old-world elements.
She used handmade paper on all the pieces, including the envelopes, to offer a vintage quality while staying true to the organic and natural theme. The monogram on the main invitation incorporates seagrass and a seashell-like, rococo embellishment. The envelope liner is printed on a beautiful translucent brown paper, along with a fine art sailboat painting to provide a worn, old-world look. The finishing touches include small gold seashells imbedded in wax seals. A seashell is one of the most remarkable elements of the coast. These small treasures elicit feelings of peace and tranquility offered at the coast, while also capturing its timelessness and beauty.
Leslie Lee Florals used local cosmos, ranunculus, scabious, sandstone toned roses, airy foliage and hints of gardenias. These neutral tones were thoughtfully chosen to enhance the ocean backdrops and not take away from their natural beauty. The ceremony arch featured 3 tiers with florals aligned all along the base and top tier that provided a focal point to the Atlantic Ocean view. The bridal bouquet was loose and airy to compliment the flowy bridal gown.
Silver Whisk Bake Shop was inspired by the tranquility and movement of ocean waves and the natural light the venue soaks up so beautifully. This three-tier beauty celebrates the coastal wedding vibe with translucent waves made of rice paper colored in varying shades of cream and champagne with accents of abstract flowers and loose flower petals. The top two tiers float above the bottom tier which make the cake appear almost weightless. The words "ethereal," "romantic," and "elegance" come to mind when we look at this wedding cake- oh, and just the right amount of sweetness with its tasty coat of Swiss meringue buttercream. No wedding is complete without dessert!
The thoughtful details in this editorial are sure to provide endless inspiration to all our coastal brides looking for ways to make the most out of their wedding weekend.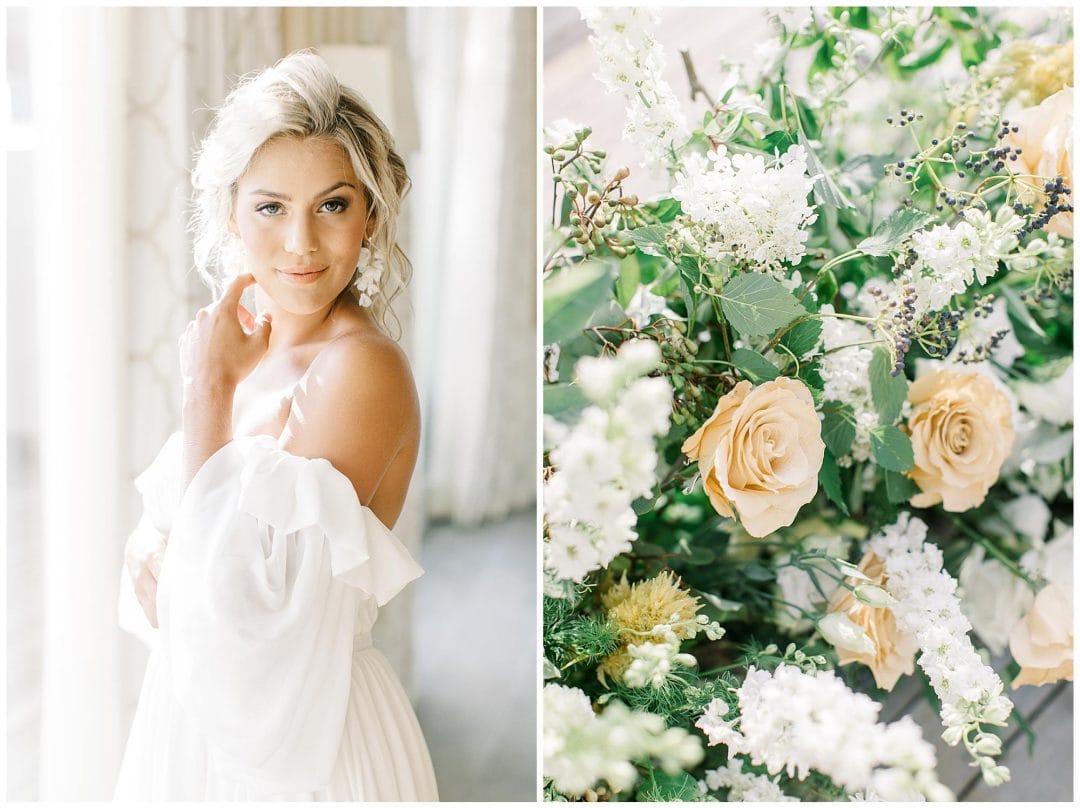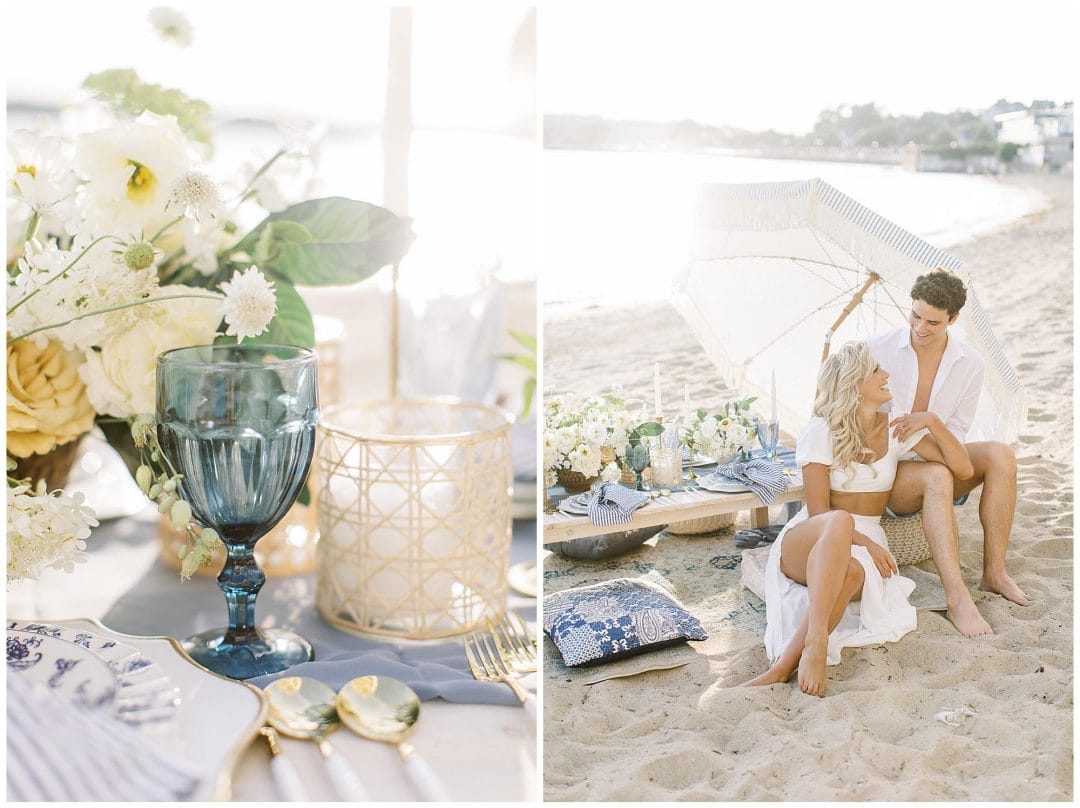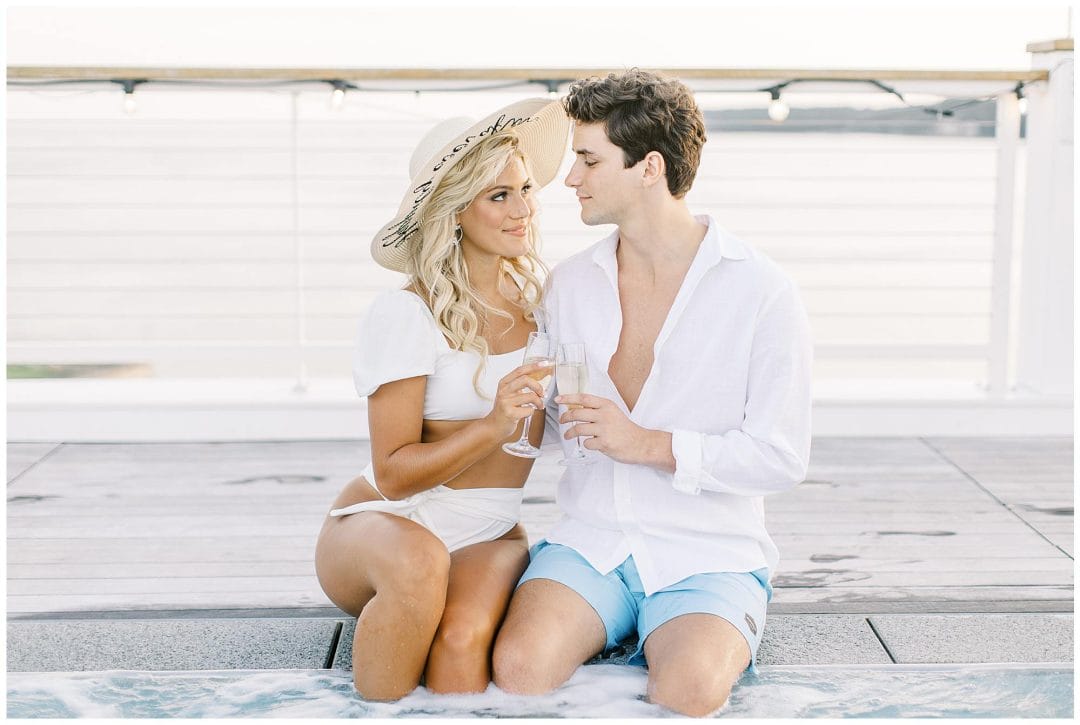 Photography: Krista Jean Photography
Event Planning: Jillian Howell Events
Invitations: Rebekah Nicole Ink
Floral Design: Leslie Lee Floral Design & Event Details
Hair & Makeup: Jenny Luu
Jewelry: Bridal Finery
Rentals: Uniquely Chic Vintage Rentals
Table Cloth: Peak Event Services
Bridal Gown: Rent the Dress CT
Cake: Silver Whisk Bake Shop
Welcome Gifts: Lavender & Pine Gifting
Shoes: Bella Belle Shoes