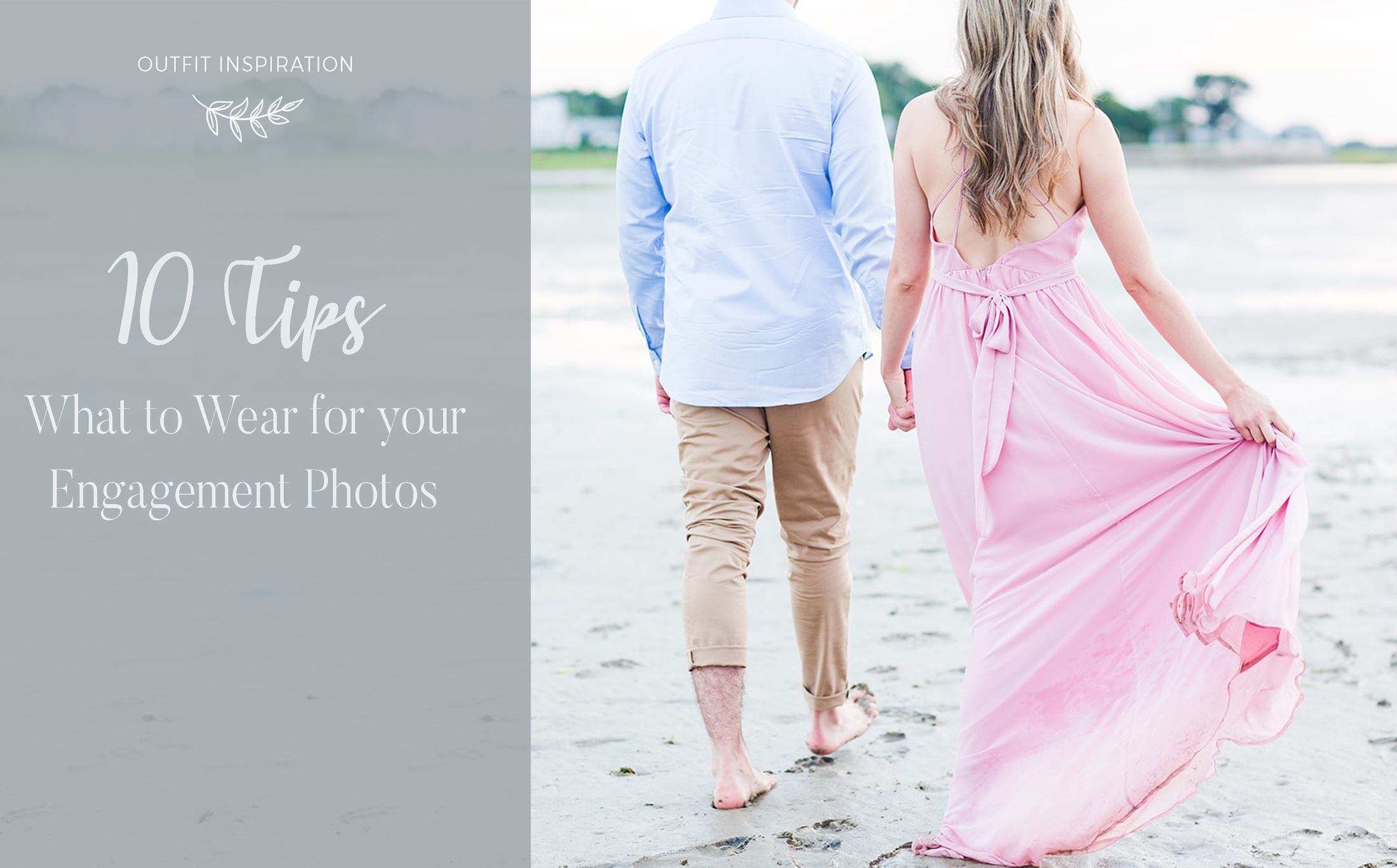 I remember when Andrew and I scheduled our engagement shoot and the first thought that popped in my head was what are we going to wear!? I remember feeling stressed and over thinking outfits. Andrew became sick of the mall very fast…and I think I was driving him a little crazy. At the time I would have loved a mini guide of some outfit inspiration tips to help me prepare! So for anyone else out there like me here are 10 tips that I have learned along the way that will hopefully make picking out your outfits a little easier and help give you some fun ideas to make your photos stand out!
10 Tips to help you prepare for your engagement session

1) Coordinate Coordinating does not mean matching outfits! It means your outfits should compliment each other and fit well together. Two tips that help with coordinating:
 Formality – If she is in a dress then he may not want to wear a sports jersey, and if he is in a suit then she would not want to wear a plaid flannel. It is important that you look like you go together. Be fancy or be casual, but do it together!
Color choices – Drawing from the same color palette is a great way to coordinate. When choosing colors pick ones that are flattering to your figure and your skin tone. Personally I am drawn to soft romantic colors like blush pink or blues! Neutrals are good, but try and stay away from black or stark white to avoid being too washed out or heavy.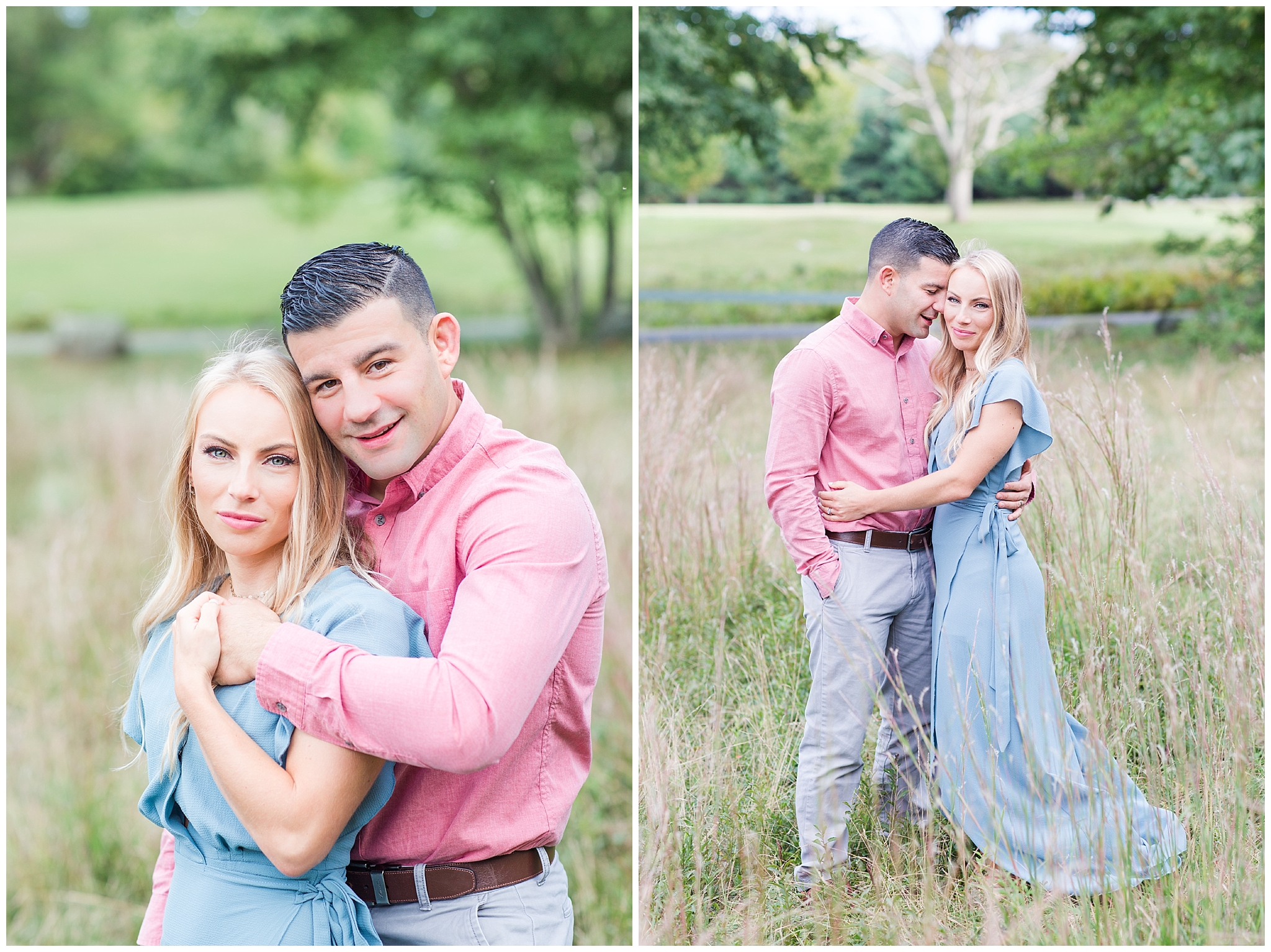 2) Pull from Patterns – If you wear an item of clothing that has a pattern you can use the the colors in the pattern to bring together the whole outfit. Something important to remember: Most patterns are okay, but be careful with loud patterns which can look very busy causing distraction in your photos. For example, some patterned pants are really distracting. If one of you is wearing something with a lot of color and pattern, it's best to have the other person wear a neutral to tone it down a bit. Solids are best for the majority of your outfit, but there is nothing wrong with throwing in a good pattern! It can be a great way to help you not look too matchy matchy.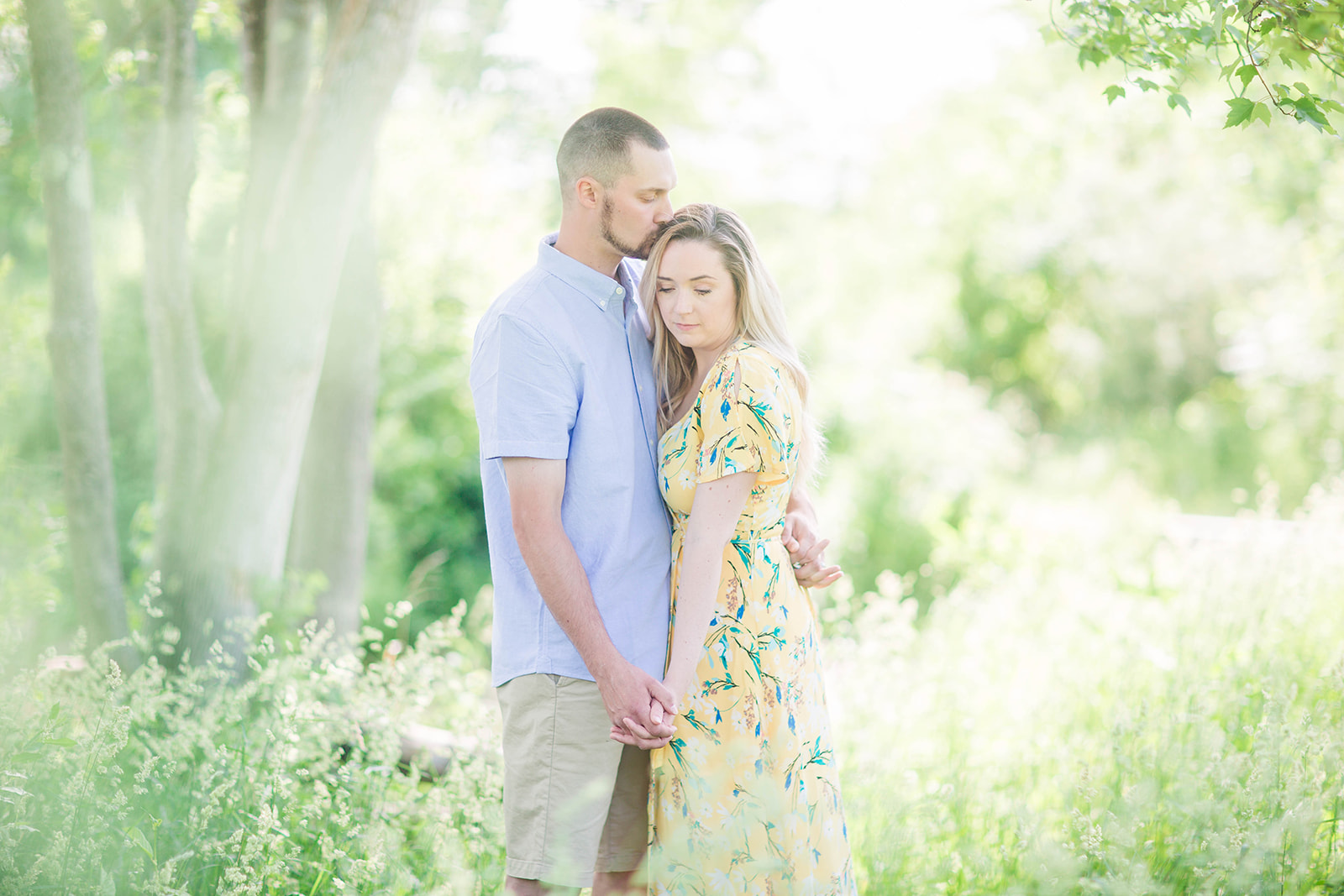 3) Textures & Layers -Another great way to add depth and detail to your photos is through textures and layers. This is a safe way to go if you are not sure or comfortable with including a pattern. Some great examples of textures are knits, fall/winter sweaters, jackets, lace detail, or scarves.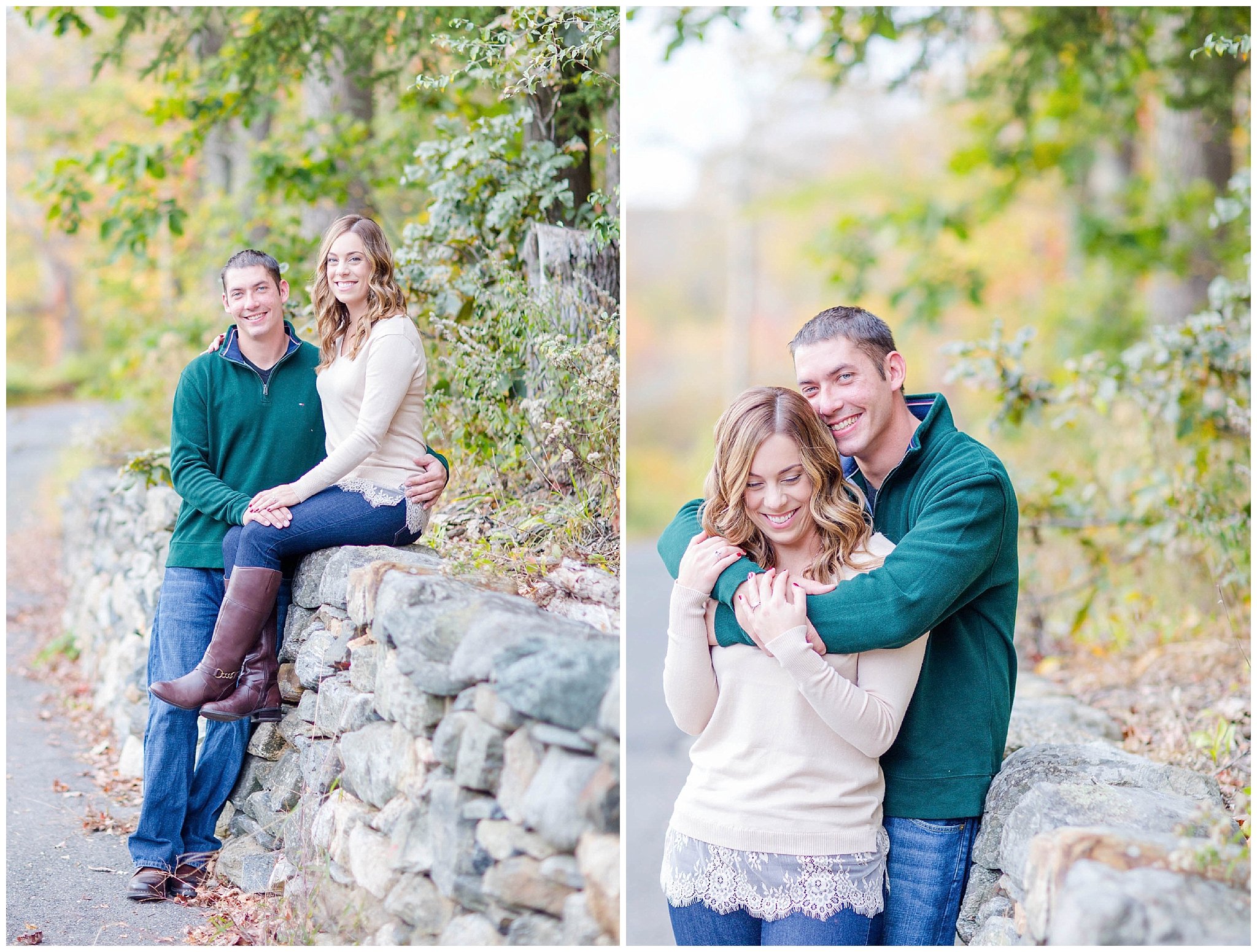 4) Accessorize – Necklace, Scarves, Flowers, Hats…This is another way to add depth to your photos. Accessories can always turn any outfit into a statement. This can also be a great way to include your personal style into your shoot. One of my favorite ways to turn a simple neutral top into an outfit people are complimenting is by adding a statement necklace or scarf. It can also provide a nice pop of color if you have an outfit that is more neutral and needs something to bring a little life to it!
*Ladies be sure to clean your ring! I love to get a couple close shots of your engagement ring during our session!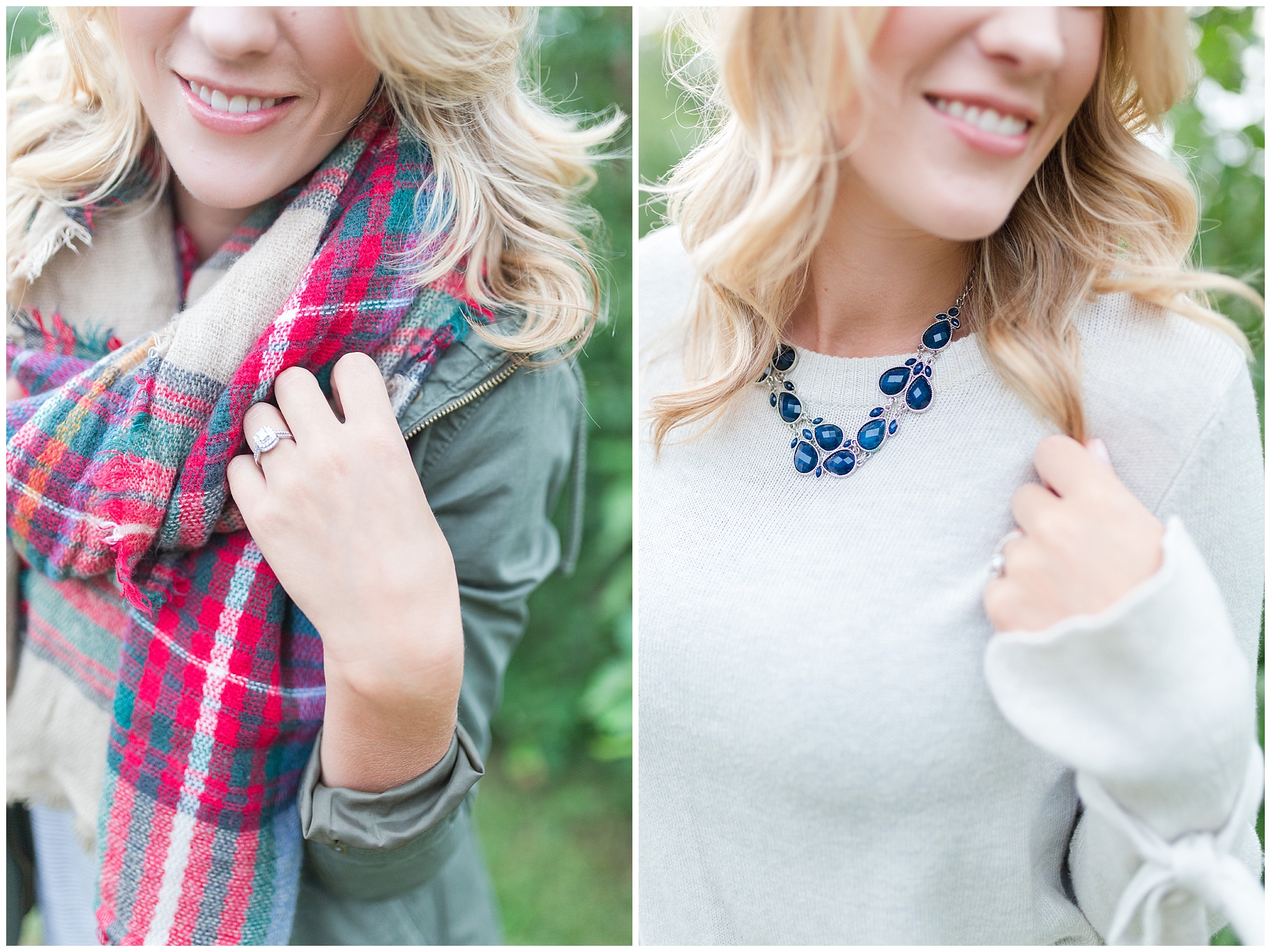 5) Variety – An engagement shoot is special and a once in a lifetime experience! So of course you want some variety and engagement shoots always offer time to have a couple different outfits. I suggest having at least one fancy option…like I said this doesn't happen everyday, CELEBRATE!! It is fun to have two completely different looks that you feel like express who you are and reflect your style on casual days and date nights! But if you are choosing one or the other I say go FANCY!
One other fun option to add variety is to include a bouquet! This is a trend I have been LOVING! If this is something you would like to incorporate ask your photographer and I am sure they will have a great florist to suggest!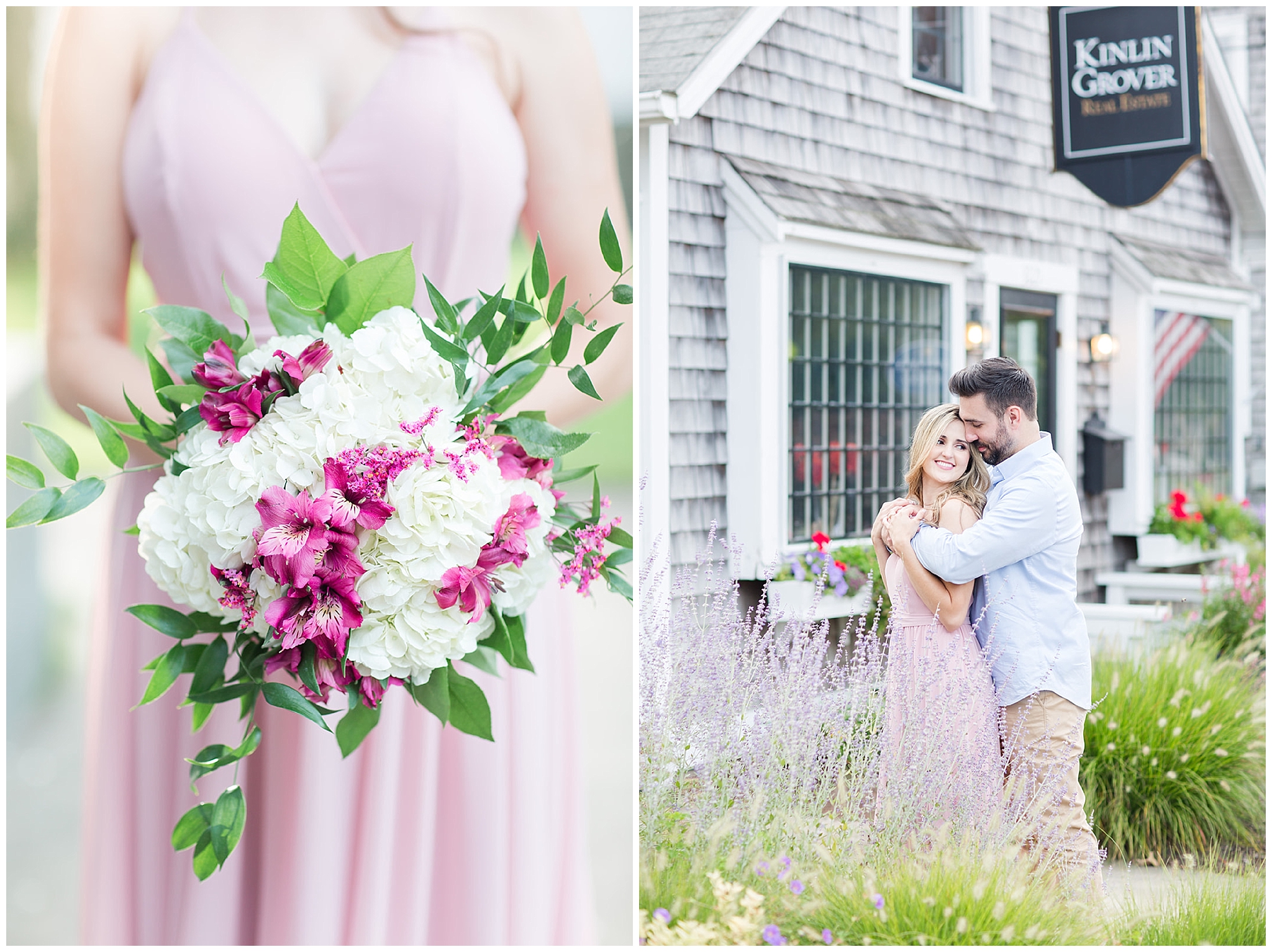 6) IRON & Empty Your Pockets – I can't stress this enough. Details do show up in your portraits so please take the time to iron out wrinkles, remove lint, etc. You will be happy you took the time to do this! There is also nothing like looking back and realizing your keys, wallet, or phone are sticking out or causing a big bulge in your pockets…so empty those pockets!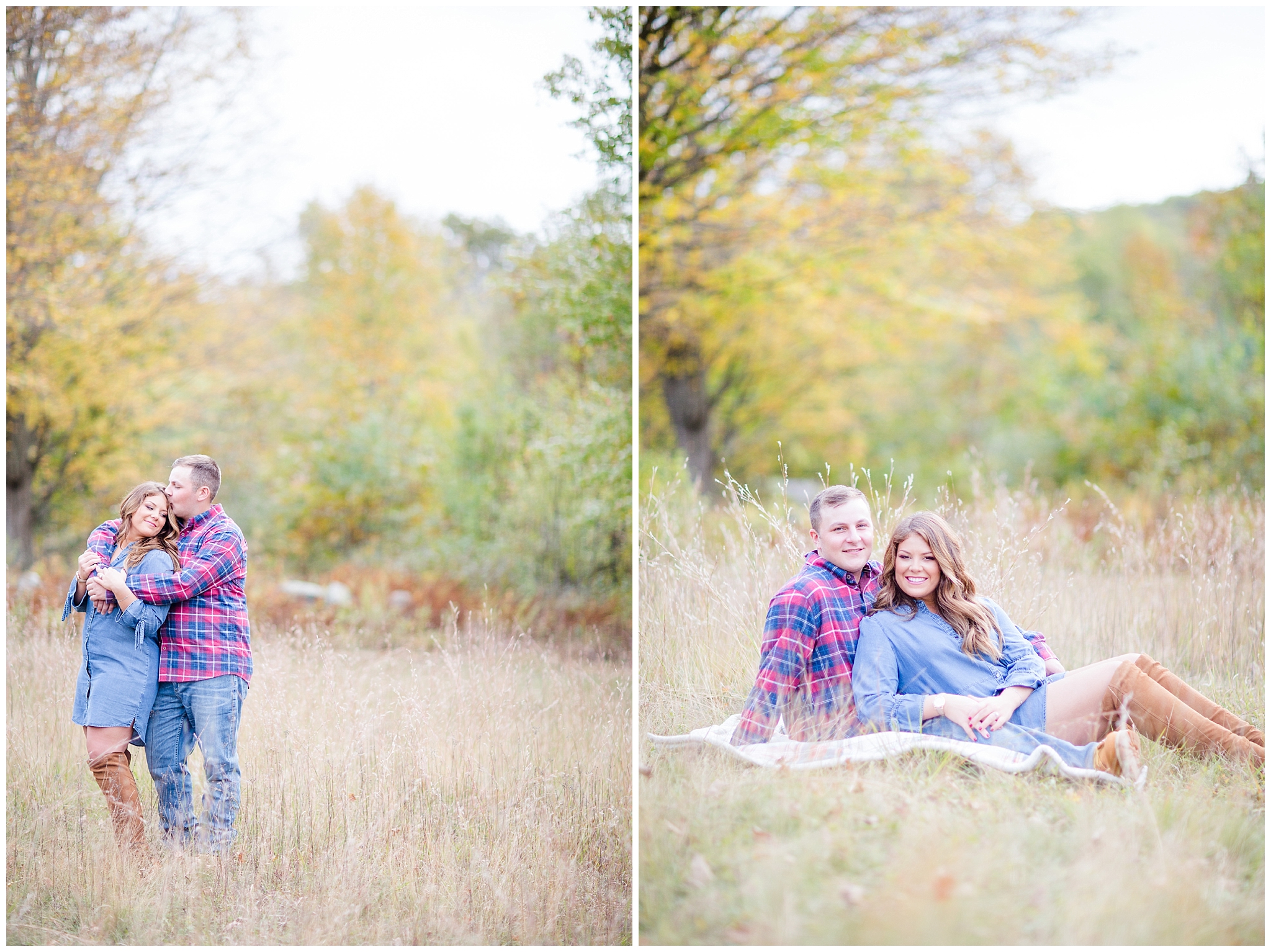 7) Location – When planning your engagement session think about what reflects you as a couple and what you love to do together.  Maybe that is going to a your favorite local coffee shop or taking your dog on a hike. Do not be afraid to do something different that speaks to your relationship! When you are considering  location that can help you as you think about what to wear. If you are an adventurous couple and like to hike with your dog on the weekends you may want to wear an athletic outfit for the first part of your session and incorporate your dog in a couple photos and then go fancy when you reach the top with a pretty view! Considering your surroundings is very helpful when choosing your outfits and the type of look you want that reflects you as a couple!
8) Avoid small repetitive patterns – Try to stay away from shirts that have fine, repetitive lines (often found in mens dress shirts) they can be hard for the camera to capture resulting in the appearance of wavy lines. It is better to wear a bigger pattern in photographs.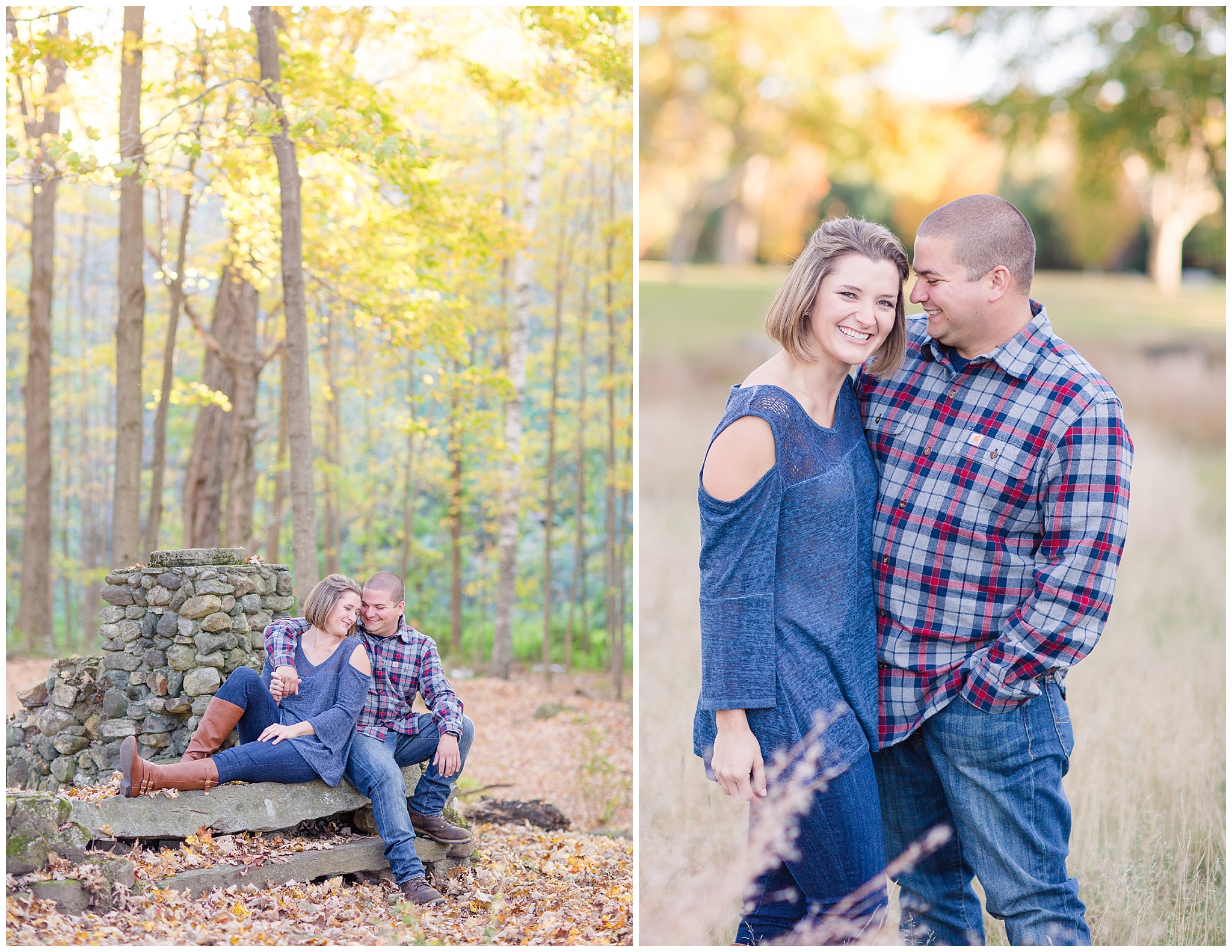 9) Hair/Makeup – As I mentioned before, this is a once and a life time experience/celebration so don't be afraid to go all out! Pamper yourself a little! Professional hair and makeup is a great way to do this. Who doesn't feel a little boost of confidence when they are all dolled up!? Confidence photographs beautifully. Every soon to be bride that has taken my advice on this always is SO glad they did when they are looking at their pictures! Another budget friendly option is to have a little fun with one of your girlfriends that is gifted in the makeup/hair world and have her give you a little makeover before your session!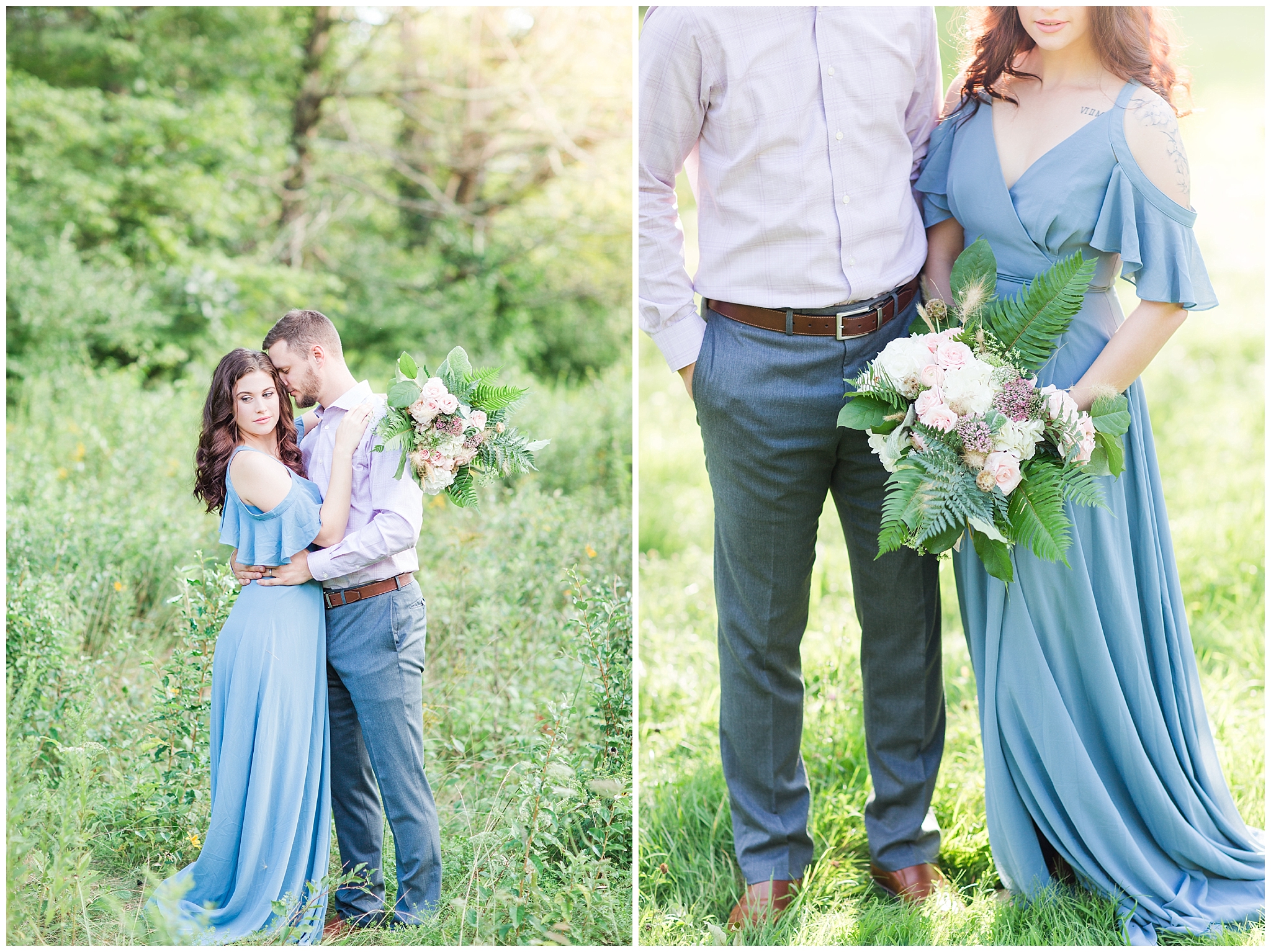 10) Most of all BE YOURSELF! – Do not be afraid to wear an outfit that is unique to you! These are photos that you will want to look back on for the rest of your life so be the best version of yourself! Confidence is important so be comfortable and love your outfit! And don't worry if you are a little nervous or not comfortable in front of the camera…that is NORMAL! Your photographer will help you get comfortable in front of the camera and pose you in flattering ways, that is their job! All you have to worry about is picking out some outfits that you love and compliment you!
This is a special occasion, so have fun with it and now you have an excuse to go shopping before your session 😉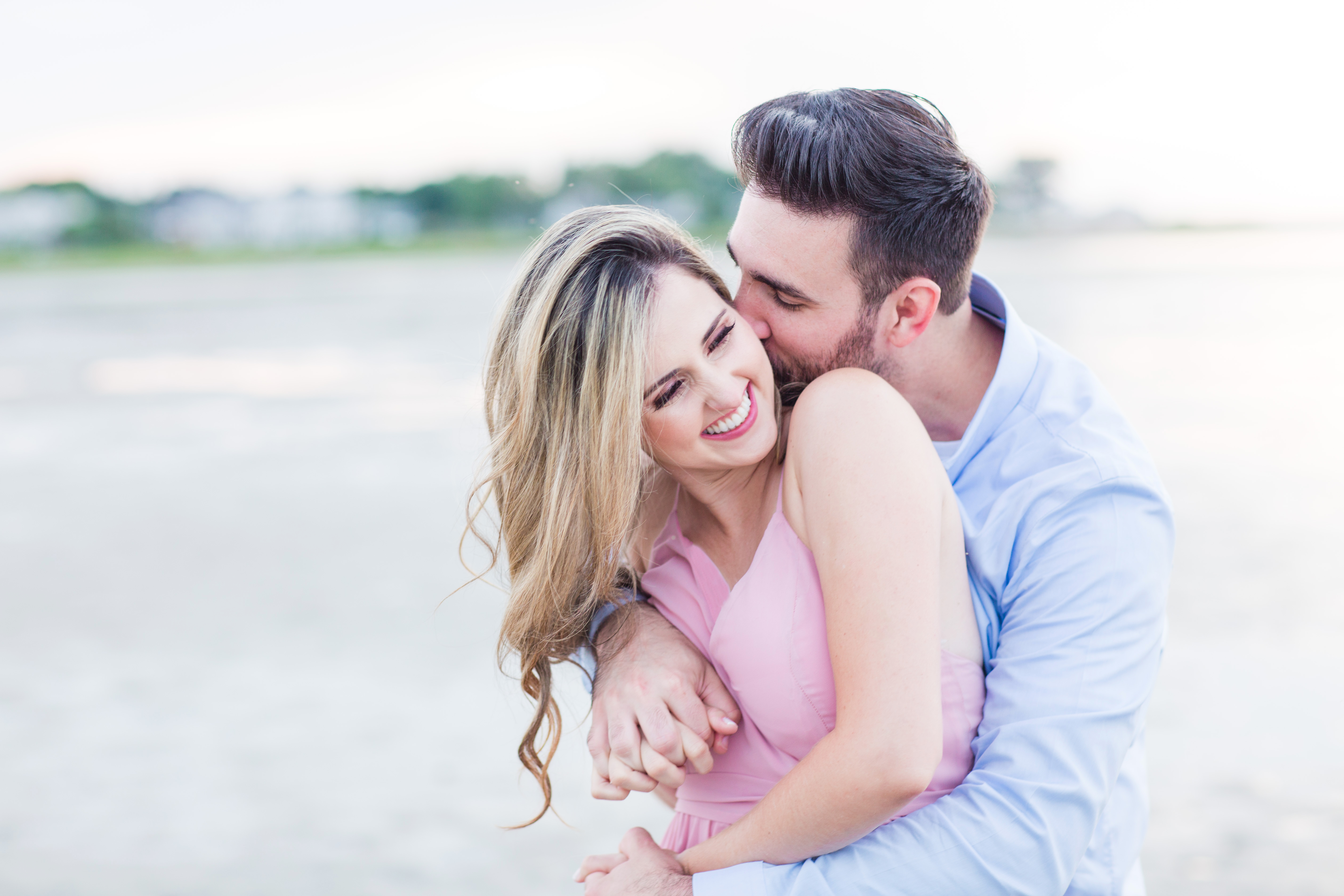 **BONUS TIP: Personally I love a romantic feel in engagement sessions and your outfit can help you achieve the look you want! I don't think any girl can go wrong with a flowy dress it is so flattering and romantic!! Ladies if you love that romantic feel and are looking for a beautiful dress to help achieve that one of my favorite store to find them is  Morning Lavender!  I wore this one in our 3 year anniversary photos and just loved it! See photo below: