I remember when Andrew and I scheduled our engagement shoot and the first thought that popped in my head was what are we going to wear!? I remember feeling stressed and over thinking outfits. Andrew became sick of the mall very fast…and I think I was driving him a little crazy. At the time I would have loved a mini guide of some outfit inspiration tips to help me prepare. So for anyone else out there like me here are 10 tips that I have learned along the way that will hopefully make picking out your outfits a little easier and help give you some fun ideas to make your photos stand out!
Click HERE to see our Best of Engagements 2019 post for more inspiration!
10 Tips to help you prepare for your engagement session

1) Coordinate Coordinating does not mean matching outfits! It means your outfits should compliment each other and fit well together. Two tips that help with coordinating:
Formality – If she is in a dress then he would not want to wear t-shirt, and if he is in a suit then she would not want to wear a plaid flannel. It is important that you look like you go together. Be fancy or be casual, but do it together!
Color choices – Drawing from the same color palette is a great way to coordinate. When choosing colors pick ones that are flattering to your figure and your skin tone. Personally I am drawn to soft romantic colors like blush pink or soft blues! Neutrals are good, but try and stay away from too much black or and if you have a fair skin tone be cautious of stark white to avoid being too washed out.
2) Pull from Patterns – If you wear an item of clothing that has a pattern you can use the the colors in the pattern to bring together the whole outfit. Something important to remember: Most patterns are okay, but be careful with loud patterns which can look very busy causing distraction in your photos. For example, some patterned pants are really distracting. If one of you is wearing something with a lot of color and pattern, it's best to have the other person wear a neutral to tone it down a bit. Solids are best for the majority of your outfit, but there is nothing wrong with throwing in a good pattern! It can be a great way to help you not look too matchy matchy. For example I love the pattern in this dress, it is soft and not distracting, but adds a beautiful element to their photos.
3) Textures & Layers -Another great way to add depth and detail to your photos is through textures and layers. This is a safe way to go if you are not sure or comfortable with including a pattern.
4) Accessorize – Cute hat, statement necklace, bouquet, a stylish heel…there are lots of ways to accessorize your outfit and it is a great way to add a little extra pop to your photos. Ladies be sure to clean your ring for those close up shots.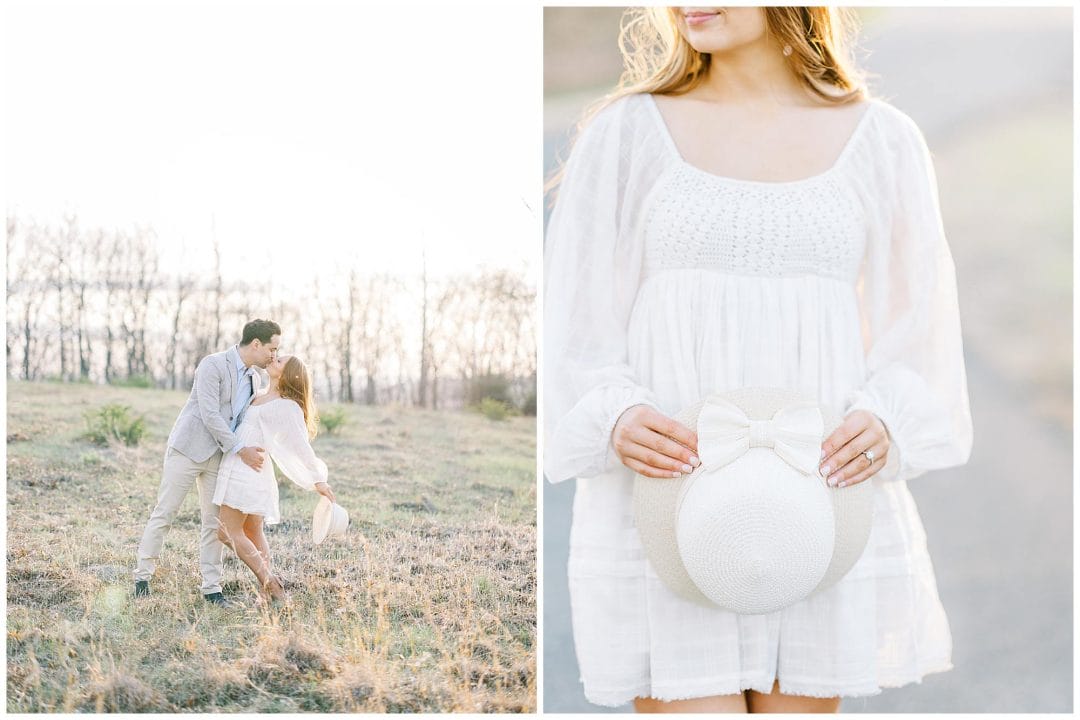 5) One or two Outfits? – Your session is 1 hour and we want to maximize that time as much as possible and have it spent taking photos! Sticking to one outfit allows you to have more photos, but I understand wanting some variety! You can also get creative and have a cute jacket or hat to throw into the mix to change up your outfit a little without needing to fully change. If you decide you would like to include two different outfits in your session you can do that, but consider your location and if it would be quick and easy to change. If you would like to incorporate two just let us know ahead of time so we can plan accordingly! 
6) IRON & Empty Your Pockets – I can't stress this enough. Details do show up in your portraits so please take the time to iron out wrinkles, remove lint, etc. You will be happy you took the time to do this! There is also nothing like looking back and realizing your keys, wallet, or phone are sticking out or causing a big bulge in your pockets…so empty those pockets.
7) Location – When planning your engagement session think about what reflects you as a couple and what you love to do together.  Maybe you have a special place you always go for date night or a favorite way to spend a Saturday morning. Don't be afraid to tailor your session to be unique to your relationship! If you are dog lovers and have a four legged friend you may want to incorporate your dog in a couple photos, which BTW I am always a fan of! You will want to finalize your location before picking out your outfits because the backdrop of your photos will affect the style and look you choose. Be sure to think about the general vibe and colors of the location you have chosen.
8) Props/Planning an activity – Including props are a great way to make your photos stand out and more personal. You can plan a simple activity together to incorporate into your session. Maybe you love wine and want to bring some of your favorite and share a glass, maybe you incorporate a bouquet because he always buys you flowers, or maybe you do something a little more extravagant like go out on a canoe ride because it is one of your favorite things to do together. Whatever you decide I promise this will add a fun element to your session and make it more personal.
9) Hair/Makeup – As I mentioned before, this is a once and a life time experience/celebration so don't be afraid to go all out! Pamper yourself a little! Professional hair and makeup is a great way to do this. Who doesn't feel a little boost of confidence when they are all dolled up? Confidence photographs beautifully. Every soon to be bride that has taken my advice on this always is SO glad they did when they are looking at their pictures! Another budget friendly option is to have a little fun with one of your girlfriends that is gifted in the makeup/hair world and have her give you a little makeover before your session
*Fake lashes really make the eyes pop!
*Bonus Tip: One other fun option to add variety is to include a bouquet! This is a trend I have been LOVING! If this is something you would like to incorporate ask your photographer and I am sure they will have a great florist to suggest!
10) Be Comfortable! – These are photos that you will want to look back on for the rest of your life so be the best version of yourself! Wear something that flatters your figure in the best way and that is neutral and timeless. And don't worry if you are a little nervous or not comfortable in front of the camera…that is normal! Your photographer will help you get comfortable in front of the camera and pose you in flattering ways, that is their job! All you have to worry about is picking out some outfits that you love and compliment you!
This is a special occasion, so have fun with it and now you have an excuse to go shopping before your session 😉
P.S. Your Fur babies are ALWAYS welcome!!! We are dog lovers and have all sorts of tips up our sleeve to help them look at the camera!
**BONUS TIP: Personally I love a romantic feel in engagement sessions and your outfit can help you achieve the look you want! I don't think any girl can go wrong with a flowy dress or skirt it is so flattering and romantic!! It also photographs beautifully with movement. Ladies if you love that romantic feel and are looking for a beautiful dress/skirt to help achieve that one of my favorite store to find them is Morning Lavender!  The designer of the store actually used to be a photographer and creates their clothing line with engagement sessions in mind. I wore this dress from their boutique for our 5 year anniversary photos and just loved it! See photo below: